Stonewell Cider Fizzes Up A Storm in Kenmare.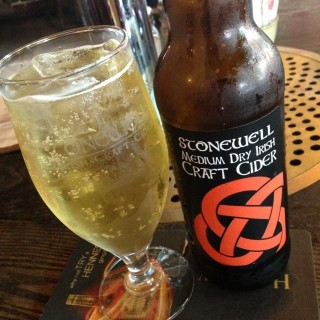 We're big fans of craft cider here at No. 35 Kenmare and we're delighted to lead the way in championing Irish craft cider & look forward to seeing other restaurants in Kerry doing likewise.
With this in mind we're delighted to introduce our customers to the superb Stonewell cider – Stonewell was founded by Daniel Emerson and his wife Geraldine in 2010.  It was inspired by a gift of an old French press and apple mill, given to Daniel by his father-in-law some years ago. Stonewell's first cider blends were created with this historic equipment.  The realisation that craft cider could be in demand from Ireland's cider drinkers inspired the couple to keep going. As Daniel says 'We wanted to create a product with integrity – nothing added but time. It didn't make sense that a country of cider drinkers had no access to a quality artisan product, especially when we have the raw ingredients on the doorstep.  Why wouldn't you go and make a great local drink that has no additives whatsoever, supports Irish apple farmers, and reduces carbon footprint' That's certainly true of Stonewell – a craft cider made with only Irish apples. Based in Kinsale Daniel decided to locally source apples from Munster and beyond. Five varieties are used to make these carefully created blends, including cider apples which have the required tannins to give depth of flavour.
As Daniel says – time is the key to good cider. Apples are pulped, juiced and then fermented with champagne yeasts; this can take weeks or months depending on season and temperature
Daniel Emerson began producing Homemade Stonewell Cider part time, trying to keep up his media management day job. In February 2012 he gave that up to work on Stonewell Cider full time and Sales have gone crazy ever since. The company grew 115 per cent last year, with a turnover of around €190,000. According to Daniel "The hard part is keeping up with demand."
This success story is a joy to read and shows just how much time and care goes into making each bottle of Stonewell Cider. Here in No 35 we are proud to support Daniel & Geraldine by stocking his local artisan Cider. Daniel's demand is rising and this is no doubt due to its unique sweet taste.
When you visit us why not enjoy a Stonewell Cider and experience its refreshing taste for yourself.
For reservations call 064 664 1559 or  click on to www.no35kenamre.com
Our sister Hotel also served Stonewell cider and provided luxurious accommodation.  For more information please contact Brook Lane Hotel reception on 064 6642077 or visit the website http://www.brooklanehotel.com/